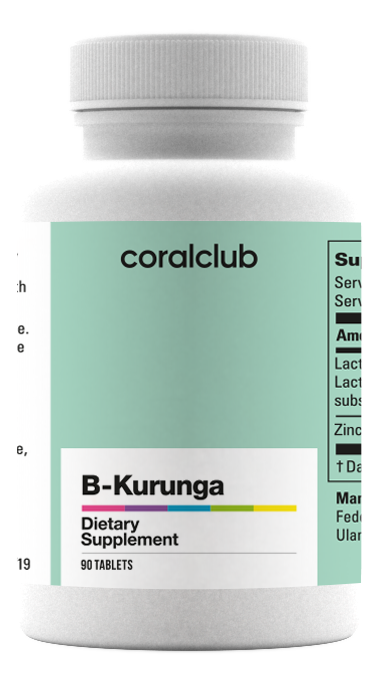 DESCRIPTION
Symbiotic concentrate of probiotics of natural origin and zinc to improve intestinal microflora, which is responsible for:

- comfortable digestion - strong immunity - allergy prevention - skin health

Bi-Kurunga contains probiotic cultures (lactobacilli) similar to those found in the Kurunga drink. This traditional drink has been widely known since ancient times in the countries of Central and North Asia for its healing properties. Its regular use supported the health of the digestive system and strengthened the body's defenses in the conditions of uniform nutrition and nomadic life. The natural origin of the main probiotics kurunga - Lactobacillius acidophilus and Lactobacillius delbruecki subsp bulgaricus determines their optimal ratio in the product for the most beneficial effect on the intestinal microflora.

To enhance the positive effect of probiotic cultures, zinc is included in the product. It is known that zinc is involved in the processes of regulation of the functions of the immune system and the formation of a full and adequate immune response, and increases the antioxidant status.

Composition

Probiotic microorganisms (Lactobacillus acidophilus, Lactobacillus delbrueckii subsp. Bulgaricus), at least 1x107 CFU / g, mg .... 599.25 (amount per 1 tablet)

Zinc (zinc oxide), mg ..... 0.6 (amount per 1 tablet)

Method of application

Adults - 2 tablets 2 times a day with meals. contraindications Individual intolerance to product components, pregnancy and lactation. Before use, it is recommended to consult a doctor.

Storage method

Store in a dry place, protected from direct sunlight, out of the reach of children, at a temperature not exceeding 25 ° C.

Expiration date

1 year from the date of production

Country of production

Russia

Supplements for food. Not a cure.
Bullet Points:
Buy B-Kurunga in 3 simple steps: select a quantity, click on "buy" and checkout.
Or register here and get a membership number with a 20% discount. And after 500 points you get a 10% money back.
Quote Example:
You might not think that programmers are artists, but programming is an extremely creative profession. It's logic-based creativity.
Table Example:
| # | First | Last | Handle |
| --- | --- | --- | --- |
| 1 | Mark | Otto | @mdo |
| 2 | Jacob | Thornton | @fat |
| 3 | Larry | the Bird | @twitter |
Embed A Tweet:
Video Example