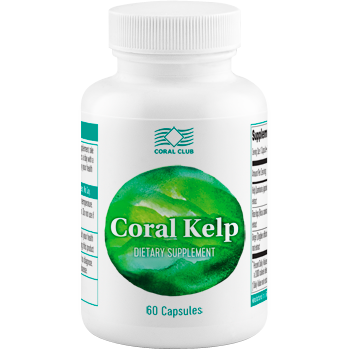 DESCRIPTION
PROPERTIES

Japanese kelp and well-known herbal antioxidants improve the functioning of the cardiovascular and digestive systems, and help detoxify the body.

Laminaria is a rich source of organic iodine. APPLICATION

Adults take 1 capsule 1-2 times a day with meals.

MAIN COMPONENTS

Japanese kelp extract

One of the most useful brown algae with a rich composition: protein, minerals (iodine, potassium, sodium, sulfur, silicon), vitamins A, C, D, E, gr. B, PUFA, etc. Due to fiber and alginates, it improves bowel function, cleanses from toxins. As a source of iodine, it is very beneficial for thyroid health.

Rosehip fruit extract

They contain 10 times more vitamin C than black currant and 100 times more than apples. Improves metabolism, increases resistance to infections, strengthens the immune system. Ginger root extract

Natural antioxidant for maintaining physical activity. Reduces cholesterol, revitalizing and strengthening blood vessels, enhances digestive functions, and promotes effective detoxification of the body.

COMPOSITION

180 mg Japanese kelp extract

20 mg Ginger root extract

150 mg Rosehip fruit extract
Bullet Points:
Buy Coral Kelp in 3 simple steps: select a quantity, click on "buy" and checkout.
Or register here and get a membership number with a 20% discount. And after 500 points you get a 10% money back.
Quote Example:
You might not think that programmers are artists, but programming is an extremely creative profession. It's logic-based creativity.
Table Example:
| # | First | Last | Handle |
| --- | --- | --- | --- |
| 1 | Mark | Otto | @mdo |
| 2 | Jacob | Thornton | @fat |
| 3 | Larry | the Bird | @twitter |
Embed A Tweet:
Video Example